Ocean Babies On Acid – The Time Machine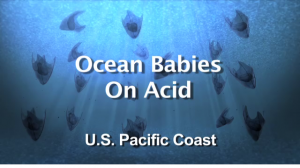 In this experiment, scientists create a time machine in the lab to take the ocean babies to the ocean of the future.
What happens to the delicate larvae of ocean creatures when they are exposed to increasing acid levels in

the ocean?  Stanford University and Bodega Marine Lab scientists conduct an experiment on how acidity levels expected in the next century affect the 28,000 genes of tiny, young sea urchin larvae.
Short Attention Span Science Videos — 2 DVD Set