A Better City – Sustainability in Boston
GG Films was asked to create a series of films for A Better City to show how the organization promotes sustainability throughout Boston.  The films show that organizations and companies of all sizes are finding that adopting sustainable practices is good business.
A Better City – Build It
See how the largest property owners of Boston are adopting sustainable practices.  Beehives on the roof, LEED platinum office towers and major infrastructure investments
are su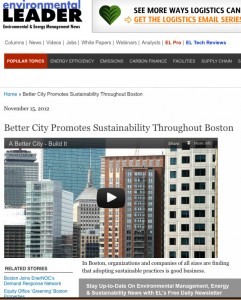 stainable and good business.
A Better City – Main Streets
Small business in Boston benefits by adopting sustainable practices.  In this film by GG Films created for A Better City, Down Home Delivery describes how ABC helped them become more sustainable…and save money.
A Better City – The Scorecard
The Scorecard developed by A Better City guides users, step-by-step, towards a sustainable goal.  The program shows large and small business owners where and how to focus in order to save energy and water, as well as broader actions they can take to reduce greenhouse gas emissions.
As Jim Carmody of Boston's Seaport Hotel says, "Everyone needs a Scorecard.  It helps every day."